NOVAE Training Solutions Partners

Airbus Helicopters Training and Services
In 2018, Airbus Helicopters Training Services partnered with NOVAE to develop its aircraft maintenance training offer. With this collaboration, the training spectrum proposed by Airbus Helicopters Training Services has widened and now meets highly specific needs in the Defense sector. Hence, by providing a solution to these specific needs, NOVAE actively participates in the deployment of new training (armament course – Puma flight crew course, among others) for Airbus Helicopters Training Services, Bordeaux.
Through a framework agreement established since January 2019, NOVAE provides training under MTO Flex AIRBUS Helicopters Training Services in the Aquitaine region for the "ending programs" range. This range of training courses particularly include the Mechanic and Avionics Defense Bridge Course and helicopter TR training courses.
This association thus gives Airbus Helicopters Training Services greater flexibility in the planning for NOVAE trainers (validated by them) and a complementary spectrum of training.
The strong increase in training courses over two years, particularly for the French Air Force, confirms the success of this professional collaboration.
---

Affiliated Safran Helicopter Engines Academy Training Centre
For 15 years, NOVAE has been a key player in the Safran Helicopter Engines Academy network and more specifically in these last ten years through its partnership contract for the Europe, Africa and Middle East region.
The Group provides training on the range of Safran Helicopter Engines gas turbines, operator customers, Safran Helicopter Engines and Airbus Helicopters maintenance technicians.
This training covers the three levels of maintenance: Line, Base and Deep Maintenance training is given at the Group's Training Center in the Bayonne region and at customer sites. Training meets the requirements of EASA authorities, and all trainees completing the course will receive a qualification certificate.
---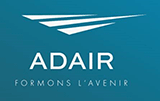 Adair
ADAIR Formation is defined as a global training platform dedicated to the airline industry and companies.
Its objective is to transmit knowledge through digital, interactive and accessible to all.
Its pedagogical priority is the presence of an expert trainer, available whatever the method or tool of transmission.
Its catalog brings together the pedagogical capacities of numerous independent experts, thus simplifying the search for companies in their initial, continuing or specific training needs.
Its internal skills and its partnerships with international companies allow the design of customized export programs.
Its DATADOCK certification authorizes (and soon QUALIOPI and Part 147) companies to entrust the supervision of each individual's training plans with the objective of compliance with European or French rules.
---

IntAIRactions
IntAIRactions, a French Company, proactive in offering support and training in many specific fields of aviation maintenance, based on an expertise of more than 30 years in this sector. IntAIRactions strives to conduct anticipatory and innovative strategies in order to respond quickly and sustainably to constantly changing customer needs.