Aircraft maintenance technicians inspect aircraft. They are tasked with inspecting the good working order of the aircraft in keeping with regulations from aviation authorities and aircraft manufacturers.
Aircraft technician: what jobs? What skills?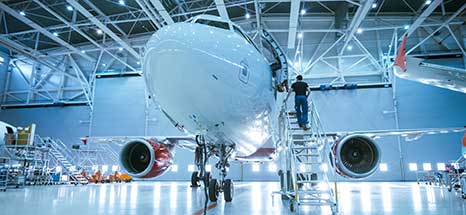 Aviation jobs cover a wide range of skills and qualifications. The job of technician covers a wide variety of tasks. From the use of technical documentation to engineering, including quality control, testing and adjustments, the tasks of a technician offer a wide range of possibilities.
The skills required are common to most aviation professionals. Meticulousness, responsiveness and resilience, ability to work as a team and to show initiative: there are many qualities involved and all have rigor as a common factor. Indeed, aircraft maintenance technicians have to inspect aircraft. They must inspect their operation. To do this, they rely on regulations from aviation authorities on the one hand, and from aircraft manufacturers on the other.
Our training courses to advance in the aircraft technician activity
You have several options to move forward in your specialization as a technician in the aviation industry, develop your skills and enhance your career. Our training offer is based on support from experienced personnel, involved in aviation bodies or within an authority (depending on the type of training).
"Maintenance" courses (level 1 and 2) train the aircraft maintenance technician, with classroom-based or e-learning modules, in the requirements of industrial maintenance in the aviation industry. Increase in proficiency in the engine and its systems, identification of modules and components, expertise in maintenance procedures: you will hone your skills and practice.
You can also complement your experience as an aircraft mechanic with our advanced training courses. Your initial aircraft maintenance training is only waiting to be improved to help you progress in your career. Borescope inspection, expertise in digital maintenance aid tools, understanding of fuel and control systems, scheduled inspection support procedures: there are plenty of opportunities.
Our core mission is to use your knowledge and operational experience to provide you with a training solution tailored to your actual needs. Small working groups make is possible to customize and enhance your skills.
The aircraft mechanic training applied to the field and your expertise.
We aim to guide you along your personal project to provide you with training solutions that reflect your ambitions!